HOPE'S HEALTHY RECIPES
GUAVA SMOOTHIE – a delicious end to a run or start to a morning.
INGREDIENTS:
1 Guava
1 Banana
1 cup Orange Juice
1 tsp lemon juice
1 Tbsp honey
2 handful of ice
PREPARATION:
Slice banana into bite-size chunks.
Cut guava in half and scoop out pulp.
Put the fruit in the blender together.
Pour lemon juice and half of orange juice in the blender too.
Add one handful of ice to blender and blend.
After the ice is blended fairly well, add honey, the rest of the orange juice, and the rest of the ice into the blender and blend to the consistency you prefer. You may also use yogurt or low fat milk.
*************************************************************************

SurvivorMember Connie Covington's Dry Jell-o Salad
– "Not just for special dinners"
1 Small carton of cottage cheese
½ Can (or small can) crushed pineapple – drain juice
Mix cheese and pineapple thoroughly
Sprinkle 1 small package of orange jell-o over mixture – use jell-o dry—
Fold into mixture 1 package of cool whip (small size)
Chill for at least l hour then serve
(Note you can use heavy cream and whip)
Nice for a hot summer evening or brunch!

GRAHAM CRACKER COOKIES
Cookie pan with edge
Graham crackers
1 c. almonds (or pecans)
2 sticks butter (I use 1 of butter and 1 of margarine)
1/2 c. sugar
Layer cookie pan with graham crackers (break them apart). Place close together so that most of the glaze will stay on top of the crackers. Sprinkle on nuts. Heat butter and sugar on low until butter melts and sugar is dissolved. Then bring to a boil for 2 minutes.
Pour mixture over crackers and nuts. You can add chocolate chips or toffee chips for variety.
Bake at 350°F for 8 to 10 minutes. Take out onto foil and let cool.
Note: Member Jean Allee brought these treats to our March Meeting and they were a hit!

"Healthified" Homemade Snickerdoodles
These Snickerdoodles have 50% less saturated fat and 58% less sodium than the original recipe. Here's proof beloved Snickerdoodles have room for improvement!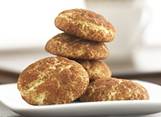 Prep time: 25 minutes
Start to finish: 3 hours
Makes: 48 cookies
1/3 cup butter, softened
1 cup sugar
1 teaspoon baking powder
½ teaspoon ground nutmeg
¼ teaspoon baking soda
1/3 cup fat-free sour cream
¼ cup refrigerated or frozen egg product, thawed
1 teaspoon vanilla
2 cups all purpose flour
Nonstick cooking spray
2 tablespoons sugar
2 teaspoons unsweetened cocoa powder (optional)

In a large bowl, beat butter with an electric mixer on medium to high speed for 30 seconds. Add the 1 cup sugar, baking powder, nutmeg and baking soda; beat until combined. Beat in sour cream, egg product and vanilla until combined. Beat in as much of the flour as you can with the mixer. Using a wooden spoon, sir in any remaining flour. Cover and chill for 1 to 2 hours or until dough is easy to handle.
Preheat oven to 375 degrees. Lightly coat cookie sheets with nonstick cooking spray. Set aside. In a small bowl, combine the 2 tablespoons sugar and, if desired, the cocoa powder. Shape dough into 1-inch balls. Roll balls in the sugar or sugar-cocoa mixture to coat. Place balls 2 inches apart on prepared cookie sheets.
Bake for 10 to 11 minutes or until edges are golden brown. Transfer cookies to a wire rack to cool.

Nutritional Information: 1 cookie: Calories 50 (calories from fat 15); total fat 1-1/2g (saturated fat 1g, trans fat 0g); cholesterol 5mg; sodium 25mg; total carbohydrate 9g; protein 1g; percent daily value: vitamin A 2%; vitamin C 0%; calcium 2%; iron 2%.
Calico Pasta Salad
A colorful pasta and vegetable salad accompanied with a side of sliced orange and avocado.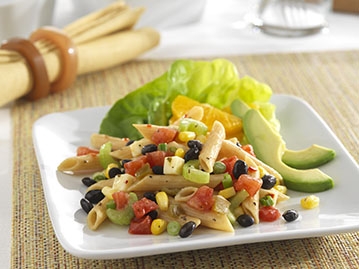 Hands On:30 minutes Total:1 hour 30 minutes
Makes:4 servings (1-1/2 cups salad with fruit side each)
Ingredients
1cup dry whole grain penne pasta, uncooked
1can (10 oz each)Ro*Tel? Original Diced Tomatoes & Green Chilies, undrained
1can (15 oz each)Ranch Style? Black Beans, drained, rinsed
1cupfrozen whole kernel corn
1/2cup diced Pepper Jack cheese
1/2cup sliced celery
2green onions, thinly sliced
1/3cup light Italian dressing
1orange, peeled, sliced
1avocado, peeled, sliced
Lettuce leaves, optional
Directions
Prepare pasta according to package directions. Drain and rinse with cold water.
Combine pasta, undrained tomatoes, beans, corn, cheese, celery and onions in medium bowl. Add dressing; mix well. Cover and refrigerate at least 1 hour before serving.
Serve pasta salad with orange and avocado slices on lettuce leaves, if desired, alongside.
******************************************************************************************************

"Healthified" Monkey Bread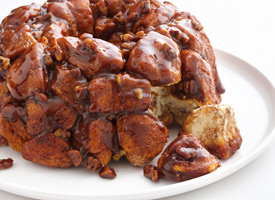 57% less fat • 61% less sat fat• 32% fewer calories fewer calories than the original recipe
Prep Time: 15 min
Start to Finish: 1 hr 10 min
Makes: 16 servings
| | |
| --- | --- |
| 1/4 | Cup sugar |
| 2 | Teaspoons ground cinnamon |
| 2 | Cans (16.3 oz each) Pillsbury® Grands! ® Homestyle refrigerated reduced-fat buttermilk biscuits |
| 1/2 | Cup chopped pecans or walnuts |
| 3/4 | Cup fat-free caramel topping |
| 2 | Teaspoons vanilla |
| | |
| --- | --- |
| 1. | Heat oven to 350°F. Spray 12-cup fluted tube cake pan with cooking spray. |
| 2. | In 1-gallon resealable food-storage plastic bag, mix sugar and cinnamon. Separate both cans of dough into 16 biscuits. Cut each biscuit into quarters. Add biscuit pieces to sugar mixture. Seal bag; shake to coat. Layer biscuit pieces and pecans in pan. |
| 3. | In small bowl, mix caramel topping and vanilla. Pour over biscuit pieces. |
| 4. | Bake 40 to 45 minutes or until golden brown and no longer doughy in center. Cool in pan 10 minutes. Invert onto serving plate. Serve warm. |
Nutritional Information
1 Serving:Calories 250 (Calories from Fat 80); Total Fat 8g (Saturated Fat 3 1/2g, Trans Fat 0g); Cholesterol 0mg; Sodium 640mg; Total Carbohydrate 39g (Dietary Fiber 1g, Sugars 15g); Protein 3g% Daily Value*:Vitamin A 0%; Vitamin C 0%; Calcium 0%; Iron 8%
_________________________________________________________________________
I'm not sure how healthy it is but we served this at a wedding reception and got lots of compliments!
BAKED SPINACH, CRAB and ARTICHOKE DIP
1 cup mayonnaise or salad dressing
1 cup freshly grated Parmesan cheese
1 can (14 ounces) artichoke hearts, drained and coarsely chopped
1 package (10 ounces) frozen chopped spinach, thawed and squeezed to drain
1 package (8 ounces) refrigerated imitation crabmeat chunks
1 cup shredded Monterey Jack or Cheddar cheese (4 ounces)

Toasted baguette slices or assorted crackers if desired

1. Heat oven to 350 deg. Mix mayonnaise and Parmesan cheese (1 cup grated) in medium bowl. Stir in artichoke hearts, spinach and crabmeat.

2. Spoon mixture into 1-quart casserole dish. Sprinkle with (1 cup) Monterey Jack or Cheddar Cheese.

3. Cover and bake 15-20 minutes or until cheese is melted. Serve warm with baguette slices. 24 servings of 2 tablespoons each.
A Sweet Treat That's Guiltless to Eat
Don't let a sweet tooth put a cramp in your healthy lifestyle. Some desserts are satisfying without excess sugar and fat. With this baked apple crisp, you can enjoy the potential cancer-fighting power of apples without sacrificing flavor. According to evidence from AICR's second expert report, a diet that features foods containing dietary fiber – like the apples and rolled oats used here –probably decrease your risk of developing colorectal cancer.
Apple Crisp
Canola oil cooking spray
4 Granny Smith apples, cored and cut into thin slices or bite-size pieces
1/2 cup raisins
3 Tbsp. apple juice
1/4 cup whole-wheat flour
1/4 cup old-fashioned rolled oats
1/4 cup brown sugar
3/4 tsp. ground cinnamon
3/4 tsp. ground nutmeg
1 Tbsp. cold butter, cut into small pieces
Preheat oven to 375 degrees. Coat 8 inch square baking dish with cooking spray. Combine apples, raisins and apple juice in bowl; toss well. Transfer apple mixture to baking dish.
In another bowl, combine flour, rolled oats, brown sugar, cinnamon and nutmeg.
With pastry blender or knife and fork, cut in butter until mixture resembles coarse meal. Sprinkle the mixture evenly over surface of apples.
Lightly coat top with cooking spray. Cover and bake 30 minutes. Uncover and bake for 20 minutes more or until apples are tender. Remove from oven and let stand on wire rack at least 20 minutes. Cut into squares and serve warm or at room temperature.
Makes 6 servings.
Per serving: 170 calories, 2.5 g fat (1 g saturated fat), 39 g carbohydrate,
2 g protein, 4 g dietary fiber, 10 mg sodium
Just in time for the Chinese New Year, this salad is a rainbow of gorgeous colors. Its flavorful, gingery dressing will keep you coming back for "just one more taste." The cabbage in this recipe adds numerous nutritional benefits and contains a group of cancer-fighting compounds called indoles that can help fight off breast cancer cells.
Asian Persuasion Coleslaw
2 cups finely shredded green cabbage
2 cups finely shredded red cabbage
1 carrot, grated or julienned
1/2 cup sliced celery
1/2 cup finely chopped sweet onion
1/2 cup chopped fresh cilantro
2 tablespoons dry roasted peanuts
2 tablespoons sesame seeds
1/4 cup seasoned rice vinegar
2 tablespoons apple juice concentrate
1 tablespoon soy sauce
1 tablespoon minced fresh ginger
1 garlic clove, minced
1/4 teaspoon black pepper
Combine cabbage, carrot, celery, onion, cilantro, and peanuts in a large bowl. Toast sesame seeds in a skillet over high heat, stirring constantly, until they begin to pop and become fragrant, about 2 minutes. Grind in a blender or food processor and add to the salad.
In a small bowl, mix vinegar, apple juice concentrate, soy sauce, ginger, garlic, and black pepper. Just before serving, add to the salad and toss to mix. Makes about 6 1-cup servings
Nutrition Information
Per 1-cup serving:
87 calories, 3.4 g fat, 0.5 g saturated fat
35.1% calories from fat, 0 mg cholesterol

Make Your Own Salad Dressing
The amount of oil found in most salad dressings can add unwanted fat & calories to otherwise light & healthy salads. Try substituting the oil with salsa or low-fat buttermilk: to help thicken dressings, add a little honey or mustard.

JoAnne's Healthy Brocoli
4 c. fresh broccoli flowerets (about 1 1/2#)
1 small purple onion, thinly sliced & separated into rings
1/2 c. raisins
1/2 c. pecan pieces, toasted
3/4 c. mayo or salad dressing
1/4 c. sugar
1 1/2 T. white vinegar
1 (11 oz.) can mandarin oranges, drained

Combine first 4 ingredients in a bowl, set aside. Combine mayo,
sugar and vinegar; add to broccoli mixture, stirring to coat.
Gently stir in mandarin oranges. Cover and refrigerate at least
3 hours. Makes 6 servings.

To save 121 calories and 14 fat grams per serving, substitute reduced-
fat mayo for regular mayo. Per serving: Calories 268 (51% from fat),
Fat 16.1g (2g saturated), Cholesterol 11 mg, Sodium 196mg, Carohydrate
31,3g, Fiber 3.7g, Progetin 3.7g.

From "Southern Living" Magazine per Jo Ann Rader

Chicken Dijon
3 Tbsps. butter
3 cloves garlic, minced
1 cup tomatoes, diced
2/3 cup green onions, chopped
2/3 cups red or green bell pepper, diced
2/3 cup mushrooms, chopped
1/4 cup white Worcestershire
1 1/4 cups Dijon mustard
6 chicken breasts
1/3 cup white wine

Melt butter in saute pan; blanch garlic in melted butter until translucent; add tomato, green onion, red bell pepper, mushrooms, and Worcestershire sauce. Spread mustard onto chicken breasts and add to saute pan; add 1/2 of the white wine, cook for 10 to 15 minutes. Turn chicken, add remaining white wine, cover and cook another 10 minutes or until chicken is done.

Light Tee-hee Cranberry-Pumpkin Bread
2 beaten eggs
1 can pumpkin
1 can whole cranberry sauce
1/2 cup applesauce (in place of using oil)
1 1/2 cups sugar
1 1/2 cups flour
1/2 tsp. baking power
1/2 tsp. baking soda
1 tsp. cinnamon
1 tsp. pumpkin pie spice
1/2 tsp. salt (optional)
1 cup pecans or almonds chopped (optional)

Mix first 5 ingredients in a large mixing bowl.
Add remaining ingredients and mix well.
Pour into a sprayed and floured loaf pan.
Bake @ 350 degrees for one hour or until pick inserted in the center comes out clean.
Yummmm....

Ranch Sandwiches
This recipe comes from the book, "Come For Tea" by Jacquelyn Smyers
Bread
Cream Cheese
1 package Hidden Valley Ranch Dip Mix
Milk, several teaspoons as needed
Green food coloring, optional
Add dip mix to cream cheese to taste. Lightly tint with green coloring. Add teaspoons of milk as needed to make it spreadable. Spread half the bread slices with mixture, top with other slices. Cut off the crusts. Cut sandwiches into quarters or triangles. Would be tasty with a slice of cucumber too!

Not Quite So Healthy Strawberry Tarts
Shortbread tart shells
1 cup flour
2 Tbs powdered sugar
1/2 cup butter
Blend the flour and sugar, cut in the butter until mixture resembles corn meal consistency. Chill about 30 minutes.
Press bits of dough into tiny tart pans.
Bake at 425 degrees for 10 - 12 minutes or until golden brown

The Topping:
Strawberries, small and fresh when available
3 cups red raspberry jelly
1/2 cup finely chopped nuts
Wash and dry the berries
Put one on each tart shell, pointed side down
Melt the jelly in microwave or over low heat. Stir to slightly cool
Spoon over each berry
Chill until jelly sets
Sprinkle with nuts

Peasant-Style Chicken Primavera
Serves 3-4
4 Tblsps. Olive oil
1 lb. Bone/skin-less Chicken breast, diced
1 ½ tsp. red pepper flakes
I c. Zucchini, sliced
½ c. tomatoes diced
½ c. sliced Mushroom
¾ lb. Linguine, cooked
¼ c. Parmesan, grated

Heat the oil in a heavy skillet. Add chicken fully cook. Add garlic and pepper flakes. Add zucchini and mushrooms. Cook until just soft. Check seasonings.

Toss in tomatoes and cooked pasta. When warm, place in bowls and top with cheese. Salt & Pepper to taste.

Ranch Beans
Serves 4
2 Tablespoons oil
1 medium onion, diced
1 ½ teasp garlic
1 medium green bell pepper, seeded & diced
1 Tablespoon jalapeno diced
1 ½ cups of tomatoes, diced
½ teasp cinnamon (optional)(see *))
1 can of pinto beans WITH liquid
salt & pepper to tastee
*A touch of cinnamon adds a new twist to these beans

Heat oil in heavy saucepan. Add onion, garlic and bell pepper. Cook til just soft, add remaining ingred's. Cover and simmer for 25 min. Serve warm..

Four Cheese Stuffed Mushrooms
12 large mushrooms (stuffers)
1 Tab Olive Oil
1 Tab Onion, minced
½ tsp Garlic, minced
½ tsp Basil
¼ cup white wine
½ cup Provolone, grated
½ cup Mozzarella, grated
¼ cup Parmesan, shredded
¼ cup Romano, grated
Remove the stems from the mushrooms. Mince them and set aside. Heat the oil in a skillet. Add the onions, garlic and minced mushroom stems. Cook until soft (about 5 minutes over medium heat). Add the basil and wine. Simmer until almost dry (about 7 minutes). Cool slightly. Blend in the cheese.
Preheat the oven to 350. Place the mushroom caps in a lightly greased baking pan. Fill the caps with the mixture and bake for 15 minutes (or until lightly browned). Serve warm.