YOU ARE HERE : HOME / SURVIVOR STORIES

SURVIVOR STORIES
Connie Covington
Knowing family medical history can be lifesaver
In May 2008, I was diagnosed with Stage IV ovarian cancer, which has a survival rate lower than 50%. My goal was to live to see my youngest granddaughter turn one year old. I am incredibly grateful to say we celebrated her third birthday in July.

The diagnosis came as a surprise to me because I had my ovaries removed in 2005. I did not know I was still at risk of ovarian cancer. All my life I tried to stay healthy and do what I thought was right — the self-exams for breast cancer, mammograms, Pap test, bone density exams, eating right—all the things we are urged to do. Sometimes the genetic factors are just too strong.
There is an extensive history of cancer in my family, but I did not know what kind of cancer until just recently. Last fall, I was going through some papers and found a notebook in which my mother kept all of her doctor appointments, medications and the surgeries she had had. One of the pages caught my eye. There, written in this little book were the words "ovarian cancer, peritoneal" and the date her kidney was removed.
After making some calls, I was told that the cancer that took her kidney was most likely ovarian cancer. My mother, who we all presumed to have kidney cancer, never discussed this other diagnosis.
According to the Ovarian Cancer Research Fund website, a woman's lifetime risk of ovarian cancer is 1 in 67, and according to the National Cancer Institute, a woman's risk for ovarian cancer increases if she has had ovarian, breast, colon or endometrial cancer in her family. Knowing my mother's true diagnosis could have led me to get tested earlier, and my odds of survival would have been much better. Ovarian cancer caught in the early stages is 90 percent curable, but there is no regular screening for it, so it's important to know if you're at higher risk.
Although there is no definitive test for ovarian cancer, a combination of a CA-125 blood test and a transvaginal ultrasound can be highly effective in catching it in the early stages.
We spend time looking up our family tree to see who we are related to, but how many of us do a medical genealogy of our family? Since learning about my mother's cancer, I've been researching my family medical history. Knowing our genetic risk factors gives us the power to take charge of our health and helps us know what conversations to have with our doctors.
Finding out about our medical history not only benefits us as individuals, but it can save future generations. Be proactive in your health care, and remember knowledge is power.
September is Ovarian Cancer Awareness Month. To learn about the signs and symptoms of ovarian cancer visit www.ocfacts.com. Covington is an active member of HOPE in Oklahoma, a group that provides gynecological cancer support and education.
Published September 1, 2010
In The Oklahoman
**************************************************************************************************************
Paula Nevius and Wendy Duncan joined forces in 2000 to found HOPE in Oklahoma. Wendy lost her battle with cancer in September 2008. Paula has decided that is it time for her to focus on other projects near and dear to her heart. She has decided to relinquish her duties as an active director and serve as an honorary director on the HOPE in Oklahoma board.
All of the women, and their families and friends, who have been touched by HOPE in Oklahoma will be forever grateful for the efforts put forth by these two women!
Cancer – Forever Changed!
Why did this happen to me? How could this happen to me? The date was June 11, 1999. I still remember the days after surgery, the beginning of chemo, the nausea, the recovery, searching for firm ground to rest my soul, the ups, the downs,….and, and the day I lost my hair. That day, I knew – I was forever changed.
The days turned into weeks, the weeks turned into months. The questions slowly and so gently, turned into answers. "Why me?" became "Why not me?"
So how did my life change? For the past 20 plus years I had worked in the fitness and nutrition industry. This explains the question "how could this happen to me?" Being alive became more important than being fit. I discovered the many simple things that I had taken for granted such as the colors of the pin oak in fall, the twinkling hundreds of stars in a clear Oklahoma sky, the taste of fresh peaches, the soft and gentle sound of rain, and the freshness of a summer morning. Most important, I learned to always have "hope."
Being physically fit was no longer a priority. Instead, the priority was becoming spiritually, mentally, and emotionally fit. The valley of fear was the place of self-discovery and what I found was someone I did not really know. That someone was me. I had taken good care of and came to know the outside of me. But who was that person living inside me? I suppose cancer became my friend because it dwelled inside my soul and I had to discover who cancer was living with. Some things I was very proud and fond of…some things – well, let's say some redecorating was needed along with some touch-ups too!
I returned to school and earned a Masters of Counseling Psychology degree. This requires great thought and intense listening. Many of you may not know that one of the best teachers of my soul have been other women diagnosed with cancer. Yes, we learned to share. Yes, we even learned to listen to each other. In so doing, we learned about ourselves. I have sat at the bedside of numerous women during the last few days of their life. Each one recounted the many blessings in their life, as well as regrets over things they wish they had done. So they taught me how to live and to live well.
I've cherished so much since forming the HOPE In Oklahoma group in May of 2000. I have learned there is a season for everything. There was a season to let go and turn HOPE over to someone else. I've recently come to the place of another season – letting go again and moving on to a different place in my journey. I have chosen to step down from HOPE as a voting board member and to simply remain in a non-voting status. It feels good. Life changes. We change – because we embrace life's challenges in order to allow change to take place.
Come to think of it, I suppose the winds of change whirled around me but did not settle in until, and only until I made the choice to embrace the wind and hold on tight….."change is a comin', and it did"! So ladies of teal grab hold of the wind and let it billow out your sails for the journey is an adventure inside yourself. Who are you? Who is that woman that occupies your soul and spirit? Does her sail fold all about you or does it stand tall with courage, embracing the winds of change?
I am forever changed. I am blessed because of it. I pray God's precious blessing on your voyage. Sail on!
Paula Nevius, Founder, Diagnosed June 1999 Stage IIC Carcinosarcoma
Remembering always, my dear friend and co-founder Wendy Duncan.
MEET MARILYN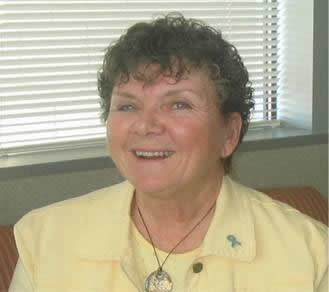 Marilyn Dewey Biography
I was born on a farm in northwest Missouri, the fourth in a family of eight children. After high school graduation, I attended secretarial school in St. Joseph then worked at Pittsburgh Plate Glass until I married a Kansas farmer.
The next 23 years were spent raising our three daughters and one son at Valley Falls, Kansas. In 1971 I took a secretarial position with Fleming Company in Topeka. In 1984 Fleming moved their corporate offices to Oklahoma City. Being newly divorced, I moved with them. I have now lived in Oklahoma for more years than anyplace else, so I guess I must be an "Okie"! I took early retirement from Fleming in 1997. In 1990 I married Delbert Dewey. We live on a small acreage south of Blanchard, so I am once again a "farm girl"!
In 2003 I took a part-time position as office manager for a small lawn and landscaping company. I worked there until August of 2006 when I was diagnosed with Uterine Serous Papillary Carcinoma. I was fortunate enough to be referred to the gynecologic oncology group at OU. February 1, 2009, I will be in remission for two years.
In March of 2007 I attended my first HOPE meeting. HOPE has truly become my passion. The love and care of my family and the friendship of the wonderful women in HOPE have truly been a blessing.
______________________________________________________________________________
Meet Dave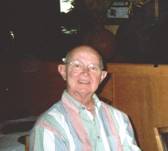 Dave Scheirman does not have ovarian cancer but we know ovarian cancer "hurts" the entire family, especially the caregiver. Dave's wife, Barbara was diagnosed with ovarian cancer in October of 1998. Since that time, he not only cared for his wife but cared for HOPE, as a supporter and volunteer. Barbara met fellow survivors, Paula Nevius and Wendy Duncan at their chemo treatments. She joined their desire to organize a support and education group which became HOPE in Oklahoma. Dave graciously and enthusiastically accepted the position of Treasurer for the new organization and still holds the title today. Yes, Dave makes all the deposits, pays all the bills and keeps our monies in order. However, he does much more than that. Dave always has a smile and a comforting word for others, especially the many husbands who have also grieved over their own losses. Barbara passed away in 2005 but Dave is still a regular at Hope Night Out and coordinates the memorial slide show at the Annual Walk of HOPE.
Dave is a very busy engineer and spends his free time with the kids and grandkids. He even fits in some time for his adventurous travels. We wonder among ourselves, does he truly know the value of his presence among Hope? Or is it that he brings Hope which adds enormous value to our group? Whichever it is, where there is love, there is Hope. And there you find Dave, simply because he loves HOPE.
Meet Martha

Martha Hatcher is a native Texan and she & her husband, Wayne have been married for 35 years and from that union has come her greatest joy in life…her two children Jennifer and Eric. Jennifer & her husband blessed them with two precious grandchildren.
Her husband's job brought them to SE Kansas where he serves as Vice-President of Student Affairs @ Labette Community College in Parsons, Kansas and Martha is Eric's primary care-giver. Eric has suffered 8 strokes in the past 9 years. He was life-flighted from Parsons to Kansas City, MO and for the 3rd time in his young life of 30 years he was not expected to live thru the night. Martha stayed by his side each day as he fought to survive. After 4½ months in the hospital, one major brain surgery and 6 shunt surgeries, the two of them returned home where out-patient rehab began 3 days a week. .
On June 12, 2002, she was diagnosed with Ovarian Cancer, Stage III-C. Her GYN-oncologist is in Tulsa, OK where she also went through her 6 months of chemo. She has been very blessed with remission since her initial diagnosis which enables her to continue caring for her son.
She enjoys working on the HOPE website and keeps it up-to-date. Martha is also the lady who calls for volunteers to help out with refreshments for the HOPE monthly meetings and thanks everyone for their willingness to help.
Although the distance from SE Kansas prevents her from attending monthly HOPE meetings, she always looks forward to the HOPE retreat and already has her reservations made for 2007 and looks forward to meeting the new ladies in our HOPE group.