Ovarian Car Tag for Oklahoma
HOPE member Connie Covington is heading up the drive to get a car tag for ovarian cancer awareness for the state of Oklahoma. When the state legislature convenes we would like to have a petition of several hundred names to present to them of people who are interested in purchasing the tag when it becomes available. There will be a petition to sign at the Walk on September 25. Connie has also set up a special email account where you can send your name and address to be included on the petition. That address is: cbchope33@yahoo.com. Some of you have already indicated your desire to purchase a tag, so it is not necessary to do so again. Signing this petition in no way obligates anyone to purchase a tag if/when they become available.
After a bill passes the legislature we will have 180 days for a minimum of 100 people to fill in an application to purchase a tag before the tags will be made.. We will notify everyone who signs the petition of this deadline so that we will be sure to get this very important car tag!
*************************************************************************************
Cleaning for a Reason
If you know any woman currently undergoing chemo, please pass the word to her that there is a cleaning service that provides FREE housecleaning - 1 time per month for 4 months while she is in treatment. All she has to do is sign up and have her doctor fax a note confirming the treatment. Cleaning for a Reason will have a participating maid service in her zip code area arrange for the service. This organization serves the entire USA and currently has 547 partners to help these women. It's our job to pass the word and let them know that there are people out there that care. Be a blessing to someone and pass this information along.
http://www.cleaningforareason.org/
******************************************************************************************************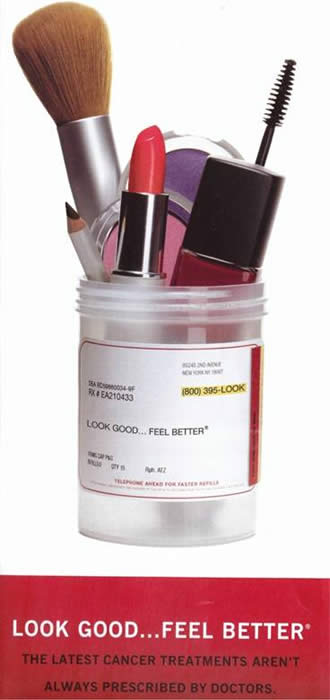 Look Good…Feel Better is a free program that teaches beauty techniques to women cancer patients in active treatment to help them combat the appearance-related side effects of cancer treatment. Trained volunteer cosmetologists teach women how to cope with skin changes and hair loss using cosmetics and skin care products donated by the cosmetic industry. Free cosmetic kits are provided at these group sessions. This is a free, non-medical, product-neutral program offered in partnership with the American Cancer Society, the National Cosmetology Association and The Personal Care Products Council Foundation.
Contact: Susan Negelhout (405) 271-5885
The 2-hour, hands-on workshop includes:
12-step skin care/make-up application lesson
Nail care techniques
Demonstration of options dealing with hair loss
Advice on wigs, scarves and accessories
Make-over tips and personal attention from professionals trained to meet your needs
_________________________________________________________________________
Calling All Ovarian Cancer Survivors
Have you heard about the Happy Feet program from Ovations For the Cure? The following quote from their website explains the program:
"Since 2006, Ovations for the Cure has been committed to one specific program that has already touched the lives of over 2,000 women and will undoubtedly help many more. Happy Feet is a program that provides patients with a pair of specially designed Stuart Weitzman slip-ons jeweled with Swarovski crystals. These shoes are free to survivors as a way of helping their road to recovery be more comfortable. These women have already paid a heavy price, and we'd like to help them feel comfortable in their returns to health."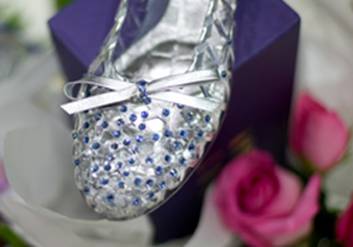 To get your pair of Happy Feet shoes, go to www.ovationsforthecure.org and move your cursor over "programs", click on "Happy Feet", click on "patients get your happy feet" then follow the directions.
AVAILABLE RESOURCES


Ovarian Cancer Hotline Offers Support
Women with suspicious symptoms or a diagnosis of ovarian cancer can call the Ovarian Cancer Hotline - 866-537-4273 - for information from a volunteer who has personal experience with the disease.
SHARE: Self-help for Women with Breast or Ovarian Cancer was established last year, in conjunction with the American Cancer Society, using money from a court-approved settlement of antitrust claims brought by the New York State Attorney General. Thirty-five volunteers from Albany, Binghamton, Buffalo, the Hudson Valley, Rochester and Syracuse received training, and 24 remain active on the hot line.
The hot line provides services in English and Spanish and maintains a pool of volunteer translators for 10 additional languages.
None of us know when we may need financial assistance in fighting cancer. Hopefully you will not ever need the following information, but in case you do, please save this for future reference.
Sources of Financial Assistance
The financial costs associated with cancer are often over-whelming. Even with insurance, many people are underinsured. For the uninsured and those who cannot work, a financial crisis may develop. This fact sheet describes various sources of financial assistance. It includes the phone numbers and websites we have found to be useful. If you do not have access to a computer or have difficulty using one, consider visiting a public library. Most libraries provide access to computers and have staff members who can assist you.
Government Assistance
There are a number of federal and state programs that provide financial benefits to individuals and families. These benefits, known as entitlements, include programs such as Social Security Disability, Supplemental Security Income, Medicare, Medicaid and public assistance. These programs are primarily set up for low-income households, the elderly and the disabled. Each has eligibility requirements. There are also a variety of programs administered through state governments that can help with health care-related needs.
For information about Social Security benefits, visit www.ssa.gov or call 1-800-772-1213.
For information about medical assistance through Medicare and Medicaid, visit www.cms.hhs.gov or call 1-877-267-2323.
To find out about benefits such as public assistance or food stamps, contact your local Department of Human Services (check phonebook for listings) or visit www.os.dhhs.gov.
If you are an older adult, you might be eligible for benefits through the U. S. Administration on Aging. For information, visit www.eldercare.gov to access the Eldercare Locator or call 1-800-677-1116.
Pharmaceutical Patient Assistance Programs
In addition to conducting research and developing new medicines, many pharmaceutical companies have patient assistance programs. Programs and services offered differ from company to company but may include help with insurance reimbursement, referrals to co-pay relief programs, and help with the application process. Many companies also offer medications at little or no cost to individuals who do not qualify for other assistance.
To find a patient assistance program, consult the websites of the specific drug companies that manufacture the medications you take. Or, ask your doctor about patient assistance programs for the drugs you are prescribed.
For links to pharmaceutical programs and other resources for financial assistance, log onto the Partnership for Prescription Assistance (PPA) website, www.pparx.org. To speak with a patient assistance program specialist, call 1-888-4PPA-NOW.
Nonprofit Programs for Co-Pay Relief
There are a number of nonprofit organizations that provide help for expenses such as drug co-payments, deductibles, and other medical costs. These programs offer different types of assistance and have their own eligibility requirements. Contact each organization to learn more.
Patient Access Network Foundation – www.patientaccessnetwork.org or 1-866-316-7263
Healthwell Foundation – www.healthwellfoundation.org or 1-800-675-8416
Patient Advocate Foundation's Co-Pay Relief Program – www.copays.org or 1-866-512-3861
Patient Services Incorporated – www.uneedpsi.org or 1-800-366-7741
National Organization for Rare Disorders – www.rarediseases.org or 1-203-744-0100
CancerCare Co-Payment Assistance Foundation – www.cancercarecopay.org or 1-866-55-COPAY
Nonprofit Organizations for Help with Practical Needs
In addition to help with managing the cot of medicines and treatment, people with cancer often need assistance with things like transportation, household help and childcare. To help with these practical needs and other concerns, a number of nonprofit organizations have useful programs or referral information. These organizations include:
General Organizations
United Way – www.unitedwayokc.org (check phonebook for local office)
Catholic Charities, Lutheran Social Services, Jewish Family Services and various community and social service organizations (check phonebook for listings)
Cancer Organizations
CancerCare – www.cancercare.org or 1-800-813-HOPE (4673)
American Cancer Society – www.cancer.org or 1-800-ACS-2345
CancerCare Can Help
At CancerCare our oncology social workers are experts in financial issues. We are familiar with assistance programs offered by government agencies, pharmaceutical companies, and nonprofit organizations, and will work with you to get the help you need. We also provide limited grants for those who qualify for cancer-related expenses like transportation, childcare, and home care. Call us at 1-800-813-4673 or visit www.cancercare.org to learn more.
The above information was reprinted with the permission of CancerCare, 275 Seventh Avenue, New York, NY 10001

Pacer Fitness Center at Integris Baptist in Oklahoma City offers FREE fitness and yoga classes to all cancer survivors, patients, and anyone affected by cancer. The class emphasizes restoration of mobility, flexibility, balance and strength. Classes are offered Monday evenings at 6:45, and Tuesdaay evenings at 5:45. Also, Wednesday mornings at 10:30 and Thursday at 9:00. You can contact Pat Lynn Moses or Andi Berry at 949-3775 for more information.
Gynecologic Cancer...
Gynecologic Cancer Web Site - A web site, addressing gynecologic cancer information.
Go to: http://www.eyesontheprize.org

Johanna's Law
Gynecologic Cancer Education & Awareness Act
www.johannalaw.org

Tulsa, OK Support Group
"Anna's Belle's" Contact Anna 918-247-6308 or anna@intcon.net

Wichita, KS Support Group "Survivor-Thrivor"
St. Elizabeth Ann Seton Church,
645 N 119th St., Wed at 7:00pm.
For more info: Debbie @ (316) 721-3360, Peggy @ (316)721-5813

Coping Magazine
(615) 790-2400

Gilda's Club
(212) 647-9700 or www.gildasclub.org

SHARE
Self help for women living with breast or ovarian cancer.  (212) 719-1204

Dave Dravecky HOPE Outreach (719) 481-3528 www.outreachofhope.org

Association of Cancer Online Resources (ACOR)
An online support group for all kinds of cancers.  Go to www.acor.org and click on mailing list, go to ovarian, cervical, etc. and register for the digest format.

Finding Strength for Living (FREE Video)
Visit the World Wide Web at www.procrit.com

"Fighting Cancer" (FREE literature)
by Annette and Richard Bloch. 
Understanding cancer, mental attitude, pain relief, diet - Call (800) 433-0464 and they will send you a copy, NO CHARGE!!

Lymphoedema: for more information about lymphoedema go to: http://www.nbcc.org.au/lymphoedema/information/

MAMM Magazine - MAMM Magazine
Women's Cancer & Community periodical focusing on breast/ gynecologic cancers.  Subscribe by calling toll free (888) 901-MAMM (6266).

Cancer Survival Toolbox
Six set audio programs produced by National Coalition for Cancer Survivorship, Oncology Nursing Society, Assoc. of Oncology Social Work, Genentech BioOncology.  (Material covers; communication, research, decision making, problem solving, negotiating, standing up for your rights.  Call/write HOPE for your FREE kit!!

"Cancer and Sexuality"
A book for women with cancer and their partners!  Books provided by American Cancer Society.  Call/write HOPE for your copy.

Women's Cancer Network
www.wcn.org or call toll free #800-444-4441

Ovarian Cancer

100 Questions & Answers About Ovarian Cancer www.jbpub.com / www.amazon.com. Authors: Don Dizon, M.D., Nadeem Abu-Rustum MD, and Andrea Brown.

Conversations - Ovarian Cancer Survivor Newsletter
P.O. Box 7948, Amarillo, TX 79114
(806) 355-2565 or www.ovarian-news.org

OCNA - Ovarian Cancer National Alliance
910 17th St NW, Suite 413, Washington DC 20006
(202) 331-1332 FAX: (202) 331-2292

GroupTele-Support for Ovarian Cancer Patients
Group meets via telephone free of charge.
  Contact Carolyn Messner at CancerCare #1-800-813-HOPE.

  NOCC - National Ovarian Cancer Coalition
P.O. Box 4472, Boca Raton, FL 33429 - 4472
1-888-OVARIAN (682-7426), www.ovarian.org

RESOURCES - "A Guide for Women Living With Ovarian Cancer" Available through Bristol-Myers Squibb Oncology.  Call/write HOPE in Oklahoma for a copy.

Cervical Cancer
NCCC (National Cervical Cancer Coalition
www.nccc-online.org/

NEW!
Clinical Trials
Do You Have Recurrent Ovarian Cancer?
Would you like to participate in a research study?
www.assist-1trial.com or www.clinicaltrials.gov

NEW!
Ovarian Cancer Research Study
Yale University School of Medicine
Renee Luongo renee.luongo@yale.edu fax: (203) 785-6782

NEW!
Ovarian Cancer
Use of antioxidants during chemotherapy for treatment of newly diagnosed ovarian cancer. This study is looking at whether dietary antioxidant supplements can improve treatment & management of ovarian cancer.
Contact: Jeanne Drisko, MD Location: University of Kansas Medical Center, Kansas City, KS. Email: jdrisko@kumc.edu. Tel: (913) 588-6208

The new booklet, "What you need to know about Ovarian Cancer" published by the National Cancer Institute is now available at the HOPE office.

The HOPE office also has a substantial library of cancer related booklets (listed below) if you would like one or more copies, please phone 405-271-8663 x 48165 and leave a message. I will put them in the mail to you.
Advances in the Treatment of Dry Mouth
Cancer and Older Adults: Getting the Care You Deserve
Cancer Facts for Women
Cancer of the Uterus
Caregiving for Your Loved One With Cancer
Caring for Your Skin During Cancer Treatment
Chemotherapy and YouControlling Cancer Pain: What you Need to Know to Get Relief
Cognitive Problems After Treatment
Coping with Cancer: tools To help you Live
Coping with Cancer: Tools to Help You Live
Coping with Cancer During the Holidays
Coping with Nausea and Vomiting from Chemotherapy
Coping with the Loss of a Spouse or Partner
Dr. Can We Talk About Chemobrain
"Doctor, Can We Talk?": Tips for Communicating with your Health Care Team
Don't Be Afraid of Clinical Trials
Facing Forward: A Guide for Cancer Survivors
Financial Help for People With Cancer
Helping Children When a Family Member Has Cancer
Helping Children Understand Cancer: Talking to your Kids about Your Diagnosis
If You Have Cancer and Have Medicare... You Should Know about Clinical Trials
Keeping Your Memory Sharp
Living with Grief: How Can You Help Yourself
Opening the Door to Effective Pain Management, Getting the Facts and Getting Help
Ovarian Cancer Resourse Gu9de for Newly-diagnosed Women
Ovarian Cancer Sexuality and Intimacy
Relaxation Techniques and Mind/Body Practices
Sexuality and Intimacy
The Future Role of Cancer Vaccines
Tips for Managing Hair Loss
Tips for Managing Treatment-Related Rash and Dry Skin
Understanding CA125 Levels
Understanding Cervical Changes
Understanding Peripheral Neuropathy
"What Can I Say to a Newly Diagnosed Loved One?
What You Should Know about Cervical Cancer
What Women Should Know about Certival Cancer
"When a Loved One has Ovarian Cancer